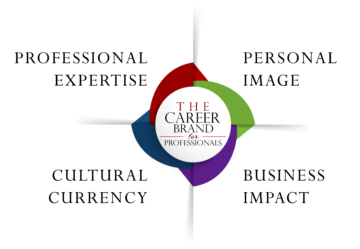 You might ask, what's a brand? A brand represents the thought or belief we have about a company, person, or product.
Your Career Brand represents how other people see your ability to perform a job. Your Career Brand can range from superior, to mediocre, to invisible.
The Career BrandTM uses a quantitative and qualitative formula for measuring an individual's or company's brand strengths and blind spots. Our formula consists of 4 drivers, each answering a critical hiring decision question:
| | |
| --- | --- |
| PROFESSIONAL EXPERTISE: | How will your knowledge and skills benefit the company? |
| PERSONAL IMAGE: | How will you represent the organization? |
| CULTURAL CURRENCY: | How will you enhance the culture of the organization? |
| BUSINESS IMPACT: | How will you grow the company? |
Individuals
• Do you know how your brand is rated?
• Do you know your blind spots?
• Is your brand helping or hindering you from getting your next promotion?
Companies, Associations and Entrepreneurs
• How strong is your leadership team's brand?
• Do you have organizational blind spots impacting your company's growth?
• Are you strategically developing your leadership team's brand?
Career Brand Solutions!
Our CEO and Founder, Latrice Collins, has created powerful individualized tools for driving results. Our dynamic tools include books, workshops, evaluations, coaching and keynote addresses.