CAREER AND SUCCESSION PLANNING COACHING PROGRAM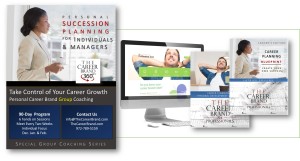 The Small Group Coaching Series has been announced for 2016. It's the Personal Career Succession Planning for Professionals program.   LIMITED TIME DISCOUNT.   Click here for more information.
MORE PRODUCTS FOR PROFESSIONALS
We are excited to bring to you, the Career Brand for Professionals suite of programs! We have created a comprehensive collection of tools consisting of interactive and entertaining books, webinars, workshops, and seminars. Each tool (created by our president, Latrice Collins) has been masterfully built on four career brand elements. Every tool has been crafted specifically for job seekers and individuals looking to achieve the next level in their career.
CAREER BRANDING FOR PROFESSIONALS BOOKS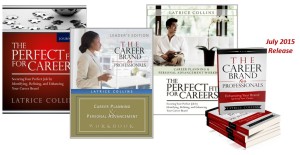 We have four career branding books.  These are the most affordable tools for individuals interested in growing in their career. Each book is built for the self-driven professional.
The Career Brand for Professionals: Our cornerstone book, "The Perfect Fit for Careers" is being rebranded with a new look and upgraded content.  The new release will be entitled "The Career Brand for Professionals.  It is scheduled to be released late July 2015.
The Perfect Fit Journal is perfect for anyone actively searching for a new position.  It's full of templates for interviewing, networking, and salary negotiations.
Career Planning and Personal Advancement guides are a game changer.  These workbooks put your success planning directly into your hands.  If you are ready to roll up your sleeves, obtain real feedback, and build tangible plans for success, these guides are for you.
CAREER BRANDING FOR PROFESSIONALS WORKSHOPS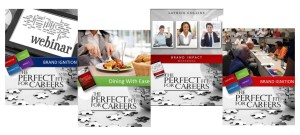 Our seminars are workshops that leave you ignited and ready to take on the world.  These programs incorporate hands-on applications for building your personal brand.
Brand Ignition:  This is our introduction to career branding.  It provides introspective exercises for understanding and identifying your brand strengths.  This program focuses on 4 career brand elements and 20 career branding attributes.  You will never look at career branding the same.  Brand Ignition is taught entirely in person or through a webinar.
Brand Impact:  This is our robust one day career branding program.  It includes a 360 degree evaluation component which enables you to actually see how other people see you.  This program offers a line-by-line comparison of career attributes: 4 career brand elements, 20 career branding attributes, 24 Career Sabotaging Behaviors and 24 Career Enhancing Behaviors. By the end of this program you will review a comparison analysis and build preliminary strategies for marketing and enhancing your brand.
Dining with Ease: Knowing dining etiquette is crucial for today's leaders. Meeting over coffee, lunch, or dinner are extremely common. This program ensures the focus of conversation stays on you for all the right reasons.
NOW! Hold on to your seat!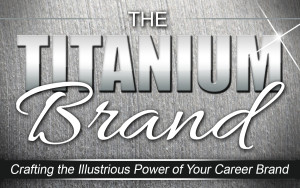 Our newest series is a month and a half program that enables individuals around the world to participate in identifying and crafting their brand. We call it TITANIUM! Do you have the TITANIUM brand?  More information is coming soon.
To find out more about any of these products, click My Career Brand Tools.
---
Join us!