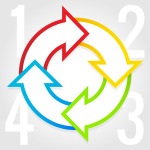 There is no question that branding one's self is essential to a successful career in the digital age; many prospective employers now Google people they are looking to hire before deciding whether or not to even interview them. The reputation you craft for yourself and the image you present via social media is more relevant than ever to the hiring process—it can make you, and it can break you.
It's therefore vitally important to take control of this process and actively brand yourself, creating the right impressions and attracting the right employers. To do so, follow the four steps below:
Define yourself. In order to give a potential employer an accurate and immediate impression of what, exactly, you're good at, you need to know yourself what your specialty is. Begin by defining yourself with a single word or concept, the axis on which your talent spins, and then expand upon that base with two or three other things you do particularly well or feel particularly strongly about.
Create a Brand Vision statement. Once you have defined what makes you as a person uniquely talented, put it into effect with a specific brand vision statement. This statement represents the vision of how you want other to see you. It crafted by what you want others to say when they speak of you. Start with your best qualities, such as "I am an organized and goal driven project manager," then detail how you apply these abilities, i.e., "I excel at handling large-scale projects for fast moving firms." Remember: You have a gift, and you're on a mission to use it; this makes you appear both valuable and driven.
Organize your experience in a way that backs up your vision statement. Nothing destroys the reputability of a brand like empty claims, so make sure to look through your experience and pick out specific accomplishments that will back up what you claim to do best in your mission statement.
Socialize your brand. Now you know what you're best at and what it has to offer others in your chosen field, get out there and make a presence for yourself online. Make sure you have Twitter, Facebook, and LinkedIn accounts, and a personal website. Consider writing a weekly blog article that showcases your expertise. The more people look to you for advise and knowledge about your field of work, the more authority your brand will have.